There's good news for fans of the Double Dragon series who are fans of the physical form. Distributor Limited Run Games has announced two physical releases of Double Dragon for Nintendo Switch. They are Double Dragon IV and Double Dragon Neon.
Here are the details that have been shared:
Both titles will receive a standard physical release (which includes only the game) for $29.99 and a special classic edition.
The classic edition of IV will be priced at $69.99 and the classic edition of Neon will cost $84.99.
A special vinyl soundtrack for Double Dragon IV will also be available for $29.99.
There will be a four-week pre-order period for both games starting on 28 May.
Here are the contents of each edition:
Double Dragon IV Classic Edition for Switch includes keychains of Billy and Jimmy, the original soundtrack on a mini-CD in a retro cartridge case, and more! The Standard and Classic Editions are available for pre-order for four weeks starting May 28th at 10 AM ET.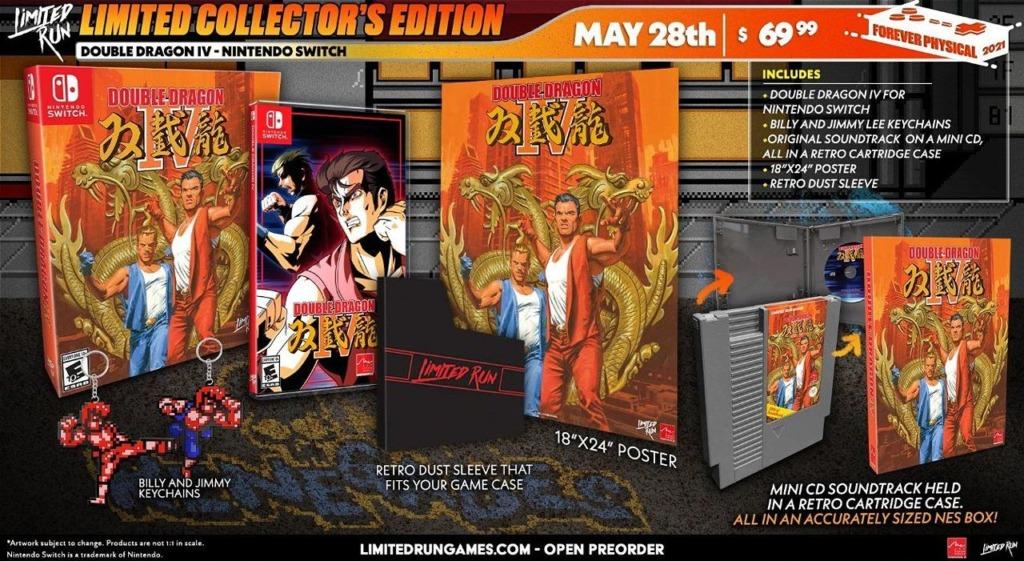 Double Dragon Neon will be available in an incredible Classic Edition that includes tons of goodies, including Billy and Jimmy figures and an authentic Dragon Kick soda can. The Standard and Classic Editions will be available for four weeks starting Friday, May 28 at 10 AM ET.