Yesterday, The Pokemon Company announced that Pokemon Home would be released in February 2020.
However, they didn't provide a concrete date.
The official Italian website for Pokemon Home, however, might give us a clue when it'll exactly release.
The Italian website claims that the application will be released on February 20, 2020: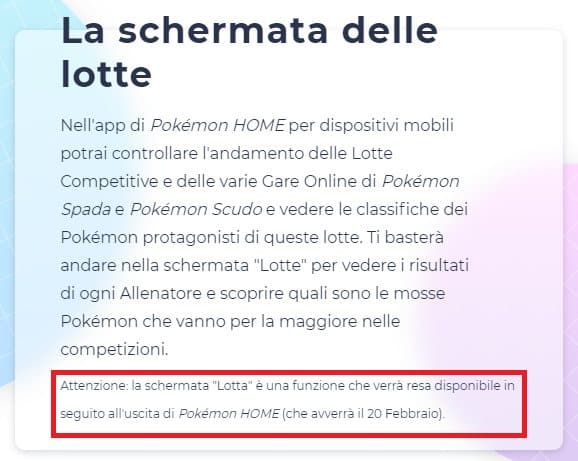 Here are the translations:
The fight screen

In the Pokemon HOME app for mobile devices you can check the progress of the Competitive Struggles and the various Online Competitions of Pokemon Sword and Shield and see the classics of the Pokemon protagonists of these fights.

All you have to do is go to the "Lotte" screen to see the results of each Trainer and find out which Pokemon moves are the most popular in competitions.

Attention the screen "Fight" and a function that will be made available following the exit of Pokemon HOME (which will come true on February 20)
Other official websites for Pokemon Home, including the Japanese and American versions, the only state that the application will be out in February.
So there is a possibility this could be a typo by the people in charge of the Italian website.
What do you think?
Comment below!
Source: NintendoSoup