Today we have some interesting news coming from beef bowl chain Yoshinoya in Japan.
Earlier this month, Yoshinoya kicked off a Pokemon campaign where they sell their popular beef bowl dishes in Pokemon bowls.
Each bowl even came with a Pokemon figurine, and a Yoshinoya location at Ebisu was even given a Pokemon makeover.
On December 26, 2019, the company announced that they have to temporarily stop the sales of all Pokemon beef bowls and figurines because demand has exceeded supply.
Yoshinoya apologized to customers for the inconvenience caused and will announce a date for their return as soon as possible.
That said, sales for Pokemon kids size beef bowls and curry bowls will continue at some locations, though they will not come with the Pokemon figurine and Pokemon fruit juice.
Popular beef bowl chain Yoshinoya and The Pokemon Company have teamed up for a Yoshinoya X Pokemon collaboration in Japan.
Yoshinoya is a fast-food chain best known for serving affordable Gyudon, a dish that contains beef, onions, and rice in a bowl.
The collaboration between Yoshinoya and The Pokemon Company will kick off with a "Series 1" campaign that begins December 19, 2019, and ends on March 18, 2020.
During the series 1 campaign period, the following Pokemon will be starred at Yoshinoya – Charizard, Groudon, Slowpoke, Weepinbell, West Sea Gastrodon, and East Sea Gastrodon.
These Pokemon were chosen because their Japanese names have a "don" at the back, and "don" means "bowl" in Japanese, similar to beef bowl "Gyudon".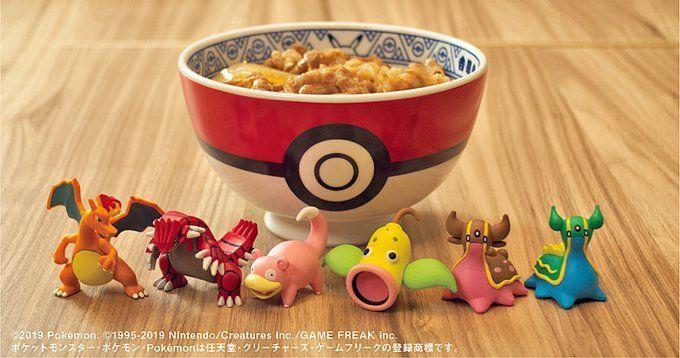 Customers who order a Gyudon during the series 1 campaign period will receive them in a Poke Ball design bowl. On the bowl's base is the design of a random Pokemon featured in the series 1 campaign.
There are also 6 Pokemon figures to collect in series 1, with more figures coming in series 2 next year. Customers who order take-out would also receive their food in special Poke Ball take-out packaging.
Here are the prices:
PokeMori Kids Curry – 328 yen
PokeMori Kids Gyudon – 328 yen
PokeMori Kids Curry + Pokemon Figurine – 448 yen
PokeMori Kids Gyudon + Pokemon Figurine – 448 yen
PokeMori Gyudon + Pokemon Figurine – 498 yen
According to the report, you can pick any Pokemon figurine of your choice.
What do you think? Let us know in the comments.