German publisher Game Fairy has announced a Nintendo Switch physical edition for Vambrace: Cold Soul.
The physical release, which contains an original soundtrack CD, Lyric keychain, 60-page art book, and several other items will be available exclusively at the Game Fairy website for USD49.99.
Only 3000 units will be produced.
Full details below:
The limited edition of the beautiful and icey adventure game for Nintendo Switch will be available at a quantity of 2,500 units via gamefairy
At an SRP of $49.99 (incl. VAT, plus shipping) the edition will include the Nintendo Switch cartridge version of the game coming with a large quantity of high quality goodies such as a reversible alternative cover, the soundtrack on CD, a Lyric Keychain, a gorgeous 60-page art book and many other neat surprises.
More details on the pre-order date will be revealed soon!
Check out the store page here!
To keep everything transparent, we want to provide you with a more detailed break down of the unit handling: Gamefairy is only manufacturing a limited amount of 3,000 units of Vambrace: Cold Soul. 2,500 of these will be available on our online store while stocks last.
The remaining 500 units are dedicated to press & giveaways and will be sold during gaming events and exhibitions.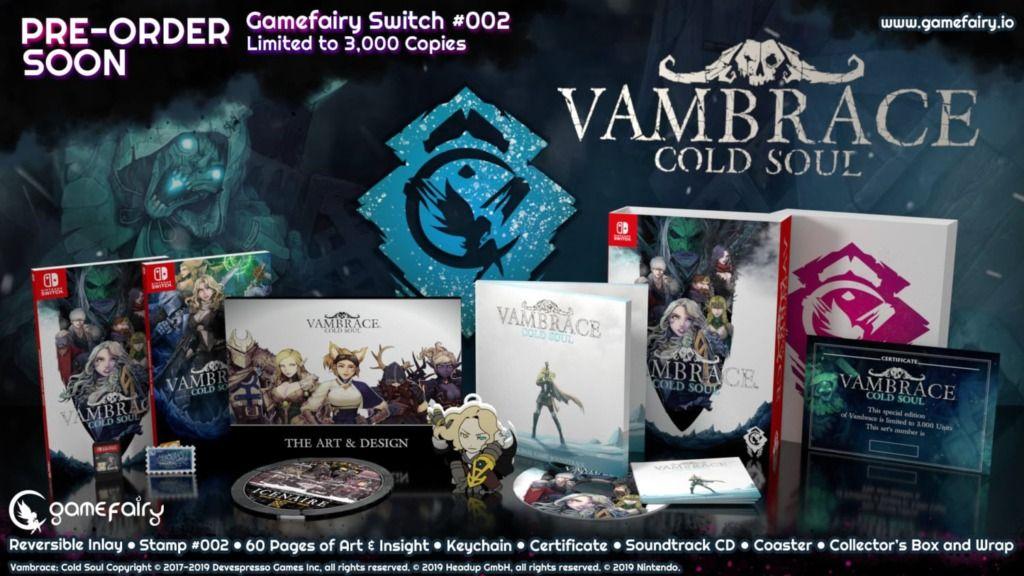 Limited to a fixed quantity* of 3,000 units!
Including:
A physical copy of Vambrace: Cold Soul for Nintendo Switch
The Nintendo Switch original game case with reversible cover art Inlay
A high-quality Collector's Box
A cute PVC keychain of the game's main character, Evelia Lyric
A "Welcome to Icenaire" Coaster
Vambrace: Cold Soul Original Soundtrack CD + a 16-page Music Booklet
An amazingly illustrated 60-page Artbook
An individually numbered Buyer's Certificate
Gamefairy Collector's Stamp #002**
Source: Via