As you already know, by complete surprise, Nintendo announced last Tuesday Nintendo Switch (OLED model), a new model that will be released on October 8th. Along with the announcement, Nintendo shared the first trailer of the console, as well as the details, which you can find in full in this news. Don't forget that we have also been able to see the box and colour variations, the official price and the technical specifications table.
Well, the English media NintendoLife has shared how speculators are already starting to do their thing in the UK. Here are the details that have been shared:
It turns out that this new model is already available for pre-order in some shops and some have taken the opportunity to pre-order it and sell it for an exorbitant price to make a profit.
This can be seen by doing a quick search on eBay, where you can see several listings promising to pass on a pre-order once it has been shipped to the seller this October.
The most bizarre listing is from a seller in Wigan, UK showing what is supposedly a confirmed pre-order for £309.99 from UK retailer GAME, and asking any potential buyer to pay the sum of £800 (approximately £930) if they want to get their hands on a Nintendo Switch (OLED model) white version.
What's more, you have to travel to Wigan to pick it up from the retailer in person.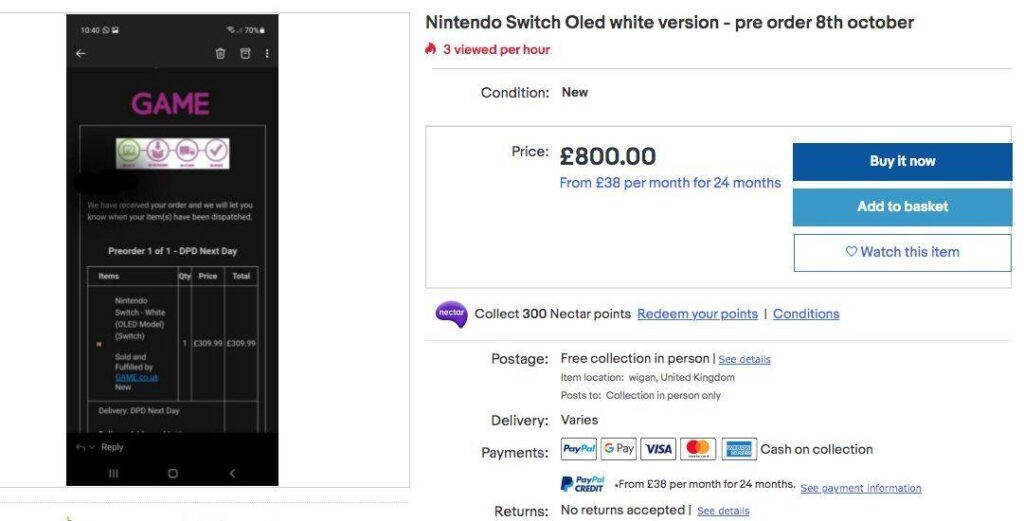 We obviously advise against buying a Nintendo Switch (OLED model) from random eBay sellers trying to make a profit, as pre-orders are available in shops at the standard retail price (€350), and in fact, some shops have not even opened pre-orders yet. Yet another sign that there are people who do not hesitate to speculate when Nintendo announces anything new that they know fans are interested in.