Once again it seems that the My Nintendo catalogue has been updated for its users. Here we bring you the list of new items that we can enjoy from now on, and redeem in case we are interested in something.
In this case, we bring you news from My Nintendo's European catalogue. According to what was shared, the following Mario Golf: Super Rush content is now available to players:
More information on shipping (£6.99) and more can be found here:
This reward code will be valid for 48 hours from the time you redeem the points for it. Make sure to place your order for the Mario Golf: Super Rush luggage tag within this timeframe.

Easily recognise your golf bag, backpack or any other bag with this stylish luggage tag. You can add your name and address to the pocket on the back of the product or insert a card you already have into it.

Features:

Size: 8 cm wide × 12 cm high
Material: ATBC-PVC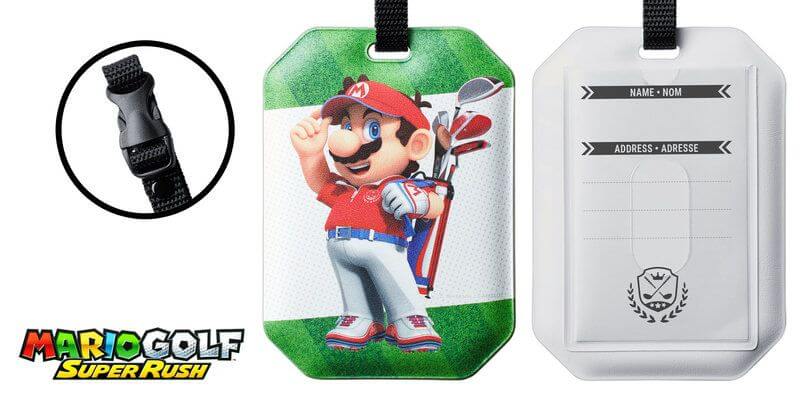 This offer is an exclusive My Nintendo reward. Stock is limited.
Get a reward code here and order from My Nintendo Store Europe.

How to order the luggage tag

You can use the reward code to order the Mario Golf: Super Rush luggage tag at any My Nintendo Store location, as long as the shipping address is in one of the countries listed below.

After redeeming points in exchange for this reward, a code will be displayed on screen.
Access the My Nintendo Store page for this product via the links below, add the item to your shopping cart, and then check your cart.
Start the checkout process.
Enter your shipping address and email address (if you have already saved these details from previous purchases, they will be displayed automatically), choose the shipping option and proceed to the checkout process.
At the top of the screen you will see a field where you must enter the reward code you just redeemed.
Fill in your payment information and proceed to the next page to confirm your details before finalising your order.

Please note that My Nintendo Store orders cannot be placed using a child account (a Nintendo account that does not have a registered email address). If you have a child account and are over 16 years of age, simply register an e-mail address here. The respective pages for each My Nintendo Store location are listed below:

If only this item is ordered, the following shipping costs must be paid:
Germany – 3,99 EUR / 4,45 CHF
All other countries* – 6.99 EUR / 7.80 CHF

* Austria, Belgium, Bulgaria, Croatia, Cyprus, Czech Republic, Denmark, Estonia, Finland, France, Greece, Hungary, Ireland, Italy, Latvia, Lithuania, Luxembourg, Malta, Netherlands, Norway, Poland, Portugal, Romania, Slovakia, Slovenia, Spain, Sweden and Switzerland.

Only one luggage tag can be ordered per person on My Nintendo Store, and can be ordered in combination with other items. Please note that only one code can be redeemed per order. It is not possible to combine this reward code with My Nintendo Store vouchers.

If you order this item with other products, the following shipping costs will apply.

Stocks are limited, so make sure you get hold of your reward code to order the luggage tag before they run out. Please note that a credit card is required to place your order.