The EMEAA (Europe, Middle East, Africa, Asia, and Australia) numbers for Feb. 2020 have come in, and there's a ton to go through.
Check out the massive breakdown of the data below.
FIFA 20 was the No.1 boxed product.
More than 10 million games were sold across EMEAA territories, a drop of 6.7% yearoveryear.
The vast majority of sales last month came from digital downloads, accounting for almost 65% of all the sales recorded.
The No.1 country for game sales was the UK, followed by Germany and then France.
No.1 publisher was Ubisoft, with a 23.7% share of game sales.
Nintendo does not share digital data.
In terms of purely physical game sales, Nintendo was the No.1 game's publisher with an 18.8% market share of all boxed games.
Switch was the #1 hardware, comfortably ahead of PlayStation 4.
The Neon Switch was the most successful individual console SKU.
Nintendo Switch sales are up slightly year on year.
257,819 game consoles were sold during February, which generated 69.1 million Euros (25% drop in revenue/units).
3.1 million accessories, point cards, and toys to life items were sold across EMEAA retail regions last month.
This generated 94.4 million Euros in revenue, which is a drop of 7.8% in units, and 5.9% in revenue year over year.
The No.1 toys to life products were the Amiibo Animal Crossing Cards: Series 3.
The UK was the No.1 market for accessories, points cards, and toys to life products, followed by France and then Spain.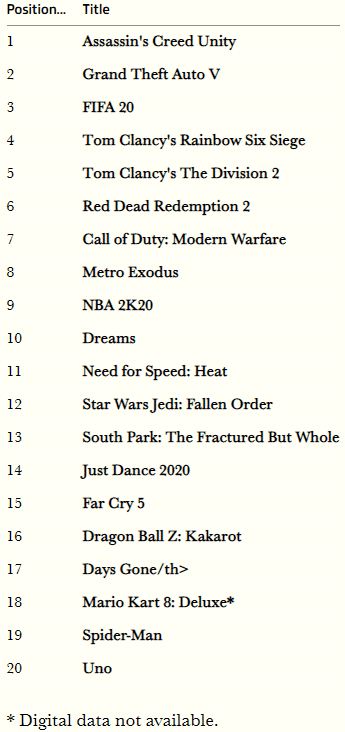 What do you think?
Comment below!
Source: GoNintendo