Been enjoying Animal Crossing: New Horizons on Switch?
Well, not everyone is as satisfied – and they're now voicing their disdain for certain aspects of the game as loudly as possible.
Numerous players now appear to be review-bombing the game with low scores to drag down its rating on Metacritic.
While the title has received universal praise from the media (a score of 91), the user rating is now sitting at a low of 6.4 instead: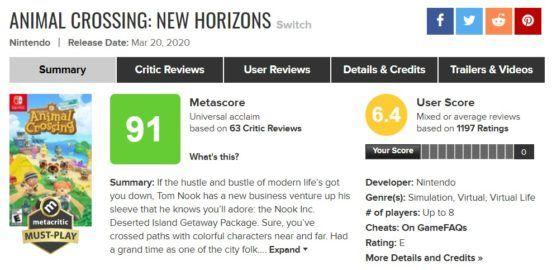 Many of these complaints appear to center on the game's one-island limitation – which prevents secondary players from making significant contributions to the island's developments.
Alternatively, some also complained about the more mundane aspects of the game in general:
"It's absolutely ridiculous that the 5 members of my family that all share a switch have to only have one island.

And on top of that the first person is the boss.

You have really let me down Nintendo and hope you get this fixed.

Also how is there no cloud save??? Welcome to 2020"

"You can only have one island per Switch.

If multiple people play on the same system, you'll be tied to whoever started the first game's island.

Kinda kills any sort of independence."

"The limitation of one island per Switch (not per cartridge, per Switch) is nonsensical.

It's obvious Nintendo is just trying to sell more Switch consoles.

This means only one person in your family can enjoy the game to its fullest extent.

Player 2 can barely do anything, and their progression is blocked until player 1 progresses further.

Player 2 can't make any administrative decisions. Players 1 and 2 have to share limited daily resources.

I had to delete my save so my brother could enjoy the game."

"I'll update my review as I play.

But mannnn this game is boring.

2 hours into the game and I got a house… that's all I feel like I accomplished.

Games are supposed to bring some short of enjoyment, whether it be story, graphics or gameplay… this has none of that so far…. just kill me now please……."
For some, these are certainly legitimate criticisms of the game – although striking the game with zeroes and ones might be a bit of an extreme way to go about it.
In any case, review-bombing seems to be par for the course for many popular Nintendo games these days, such as Astral Chain and Tokyo Mirage Sessions #FE Encore.
What do you think?
Do you agree with these review-bombers?.
Comment below!
Source: NintendoSoup