Heading abroad these few weeks?
You might find a pleasant Switch surprise while waiting for your flight!
Nintendo of America has announced that it will be running special Nintendo Switch 'On The Go' pop-up kiosks at select airport lounges.
The kiosks will run from February 13/17 – March 26/29 (depending on location) and feature multiple game demos.
Here are the full details below, from Nintendo:
REDMOND, Wash.–(BUSINESS WIRE)– Busy travelers embarking on journeys this year will have the opportunity to encounter fun surprises waiting for them at the airport.

Beginning on Feb. 13, at select major airports across the U.S., Nintendo will be providing Nintendo Switch™ On The Go pop-up airport lounges featuring Nintendo products and opportunities for hands-on time with the Nintendo Switch and Nintendo Switch Lite systems.

With comfortable seating, charging ports and Nintendo Switch game demos playable in both Handheld mode and TV mode, these lounges demonstrate the convenience and joy that the Nintendo Switch family of systems can add to everyone's on-the-go adventures.

Some of the games that will be featured at the demo areas include popular titles such as The Legend of Zelda™: Breath of the Wild, Mario Kart™ 8 Deluxe, Super Mario Odyssey™, Super Mario Party™ and Tetris® 99, among others.

"With a vast library of exciting entertainment to launch into, we hope travelers discover that Nintendo Switch and Nintendo Switch Lite make great companions for their trips," said Nick Chavez, Nintendo of America's Senior Vice President of Sales and Marketing.

"Spending time with Nintendo games at our On The Go lounges will give people the opportunity to begin or end their journeys with a smile."

In addition to spending time enjoying the latest Nintendo games, while visiting the Nintendo Switch On The Go experience, travelers can order Nintendo Switch and Nintendo Switch Lite systems and receive a free carrying case with their order.

Travelers can also order select Nintendo Switch games and Nintendo merchandise.* Just for stopping by, visitors will also receive a free Nintendo Switch branded luggage handle wrap and a $10 coupon from Target to use on any Nintendo purchase of $75 or more (available while supplies last, terms apply).

The Nintendo Switch pop-up lounges and gateway experiences are currently scheduled to appear at the following airports, located beyond passenger screening:

Airport

Location

Date

Dulles International Airport

Washington, D.C.

Concourse B near west entrance/exit, next to Gate B62

Feb. 17 –

March 29

Seattle – Tacoma International Airport

Seattle, WA

Concourse C, next to Gate C10

Feb. 17 –

March 29

O'Hare International Airport

Chicago, IL

Terminal 1, Concourse B, between Gates B12 and B14

Feb. 17 –

March 29

Dallas Love Field Airport

Dallas, TX

West Terminal, near Gates 14 and 16

Feb. 13 –

March 26

Passengers with flights booked at these airports are encouraged to swing by after passing TSA security to spend some time enjoying Nintendo Switch games while waiting for their flights.

They're also encouraged to wave hello if they spot Lakitu above the clouds!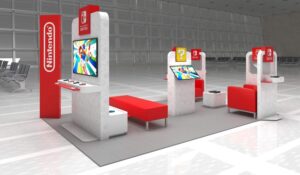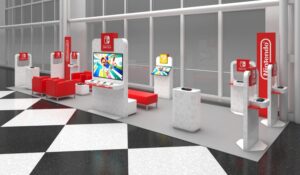 What do you think?
Comment below!
Source: NintendoSoup, Nintendo PR